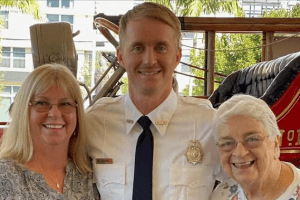 Michael Hughes, Pompano Beach Firefighter has suffered a terrible accident while overseas in Bali, Indonesia with friends.
Michael's mother Lorene Parker, who is an Assumption Church parishioner is reaching out to the community for prayers and support.
Doctors performed an emergency surgery to stabilize him before he can get medically transported back to the U.S. for additional surgeries. The Hospitals in Bali do not accept Michael's medical insurance.
Arrangements are being made for Michael's return home to the U.S. He will need special assistance which include a medical team and special transportation due to the injuries he sustained.
This has been an emotional and financial hardship on his family. They cannot wait to get him home so he can receive the medical care that he needs.
His family is overwhelmed with the support and generosity of our community. The family is so grateful for everyone's continued support.
The family appreciates Father Greer and the Assumption church congregation for their prayers and support through this difficult time.
We have started a Go Fund Me to get Michael home:
https://www.gofundme.com/f/mike-hughes-needs-help-he-had-a-terrible-accident